Vidya Niketan Sr. Sec. school Alipur
Vidya Niketan Sr. Sec. school Alipur was established in 1997 and it is managed by the Pvt. Unaided. It is located in rural area. It is located in Sohna block of Gurugram district of Haryana. The school consists of Grades from 1 to 12. The school is Co-educational and it doesn't have an attached pre-primary section. The school is Not Applicable in nature and is not using school building as a shift-school. English is the medium of instructions in this school. In this school academic session starts in April.
The school has Private building. It has got 60 classrooms for instructional purposes. All the classrooms are in good condition. It has 15 other rooms for non-teaching activities. The school has a separate room for Head master and teachers. The source of drinking Water in the school is R.O. and it is functional. The school has 12 boys toilets and it is functional and 12 girls toilets and these are functional. The school has a playground. The school has a library and has 2500 books in its library. The school has 20 computers for teaching and learning purposes all are functional.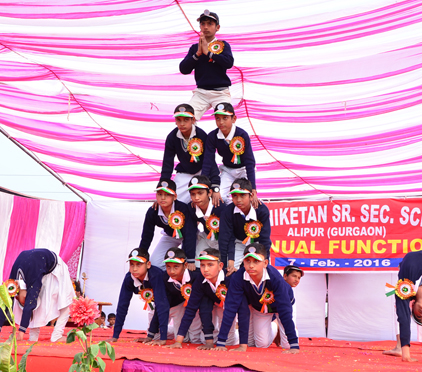 To equil the children to live in the world with confidence & independence, we give our students a comprehensive training for citizenship, the correct approach to study & capacity to work as a team .Our mision is to help every child to be well prepared for future with different skills. We give the education which aims at the flowering of the child's physical, emotional, mental and spiritual personality. Our endeavour is to impart education which looks beyond the frontiers of formal education. It is, in fact, a preparation for life long learning.
" To provide academic excllence through a team of dedicated teachers and value based education .To make fast & accurate in problem solving & decision making in every situation. The problem is not in identifying winners it is in making winners out of ordinary people. The Mission of the school is to provide the right stimulus that would lead to the holistic development of the child. "